Chalet Milandora: New !




Next to our house , Sotbosch, in a sunny and peaceful location, with beautiful views to the Dolomites, we present you the new Chalet Milandora.
The residence has 5 cozy apartments for 4 to 6 people (including 3 with two bathrooms), all with terrace and equipped with all necessary comforts. Within the building, a separate ski deposit for each apartment, garden and private parking.



Quiet, peaceful and panoramic position

Immersed in an enchanting scenery,
in one of the most beautiful spots with wide views to Piz La Ila, Sasso Croce, and Sella.


The position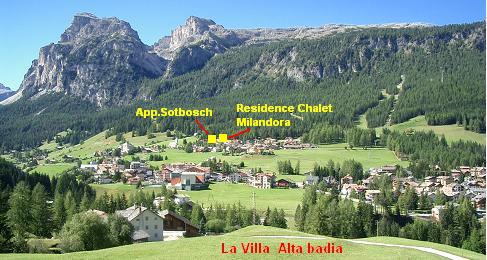 Appartments




- Entry
- Livingroom
- kitchen separated from the living room area
- 2 rooms
- possibility to add extra bed
- 1 or 2 bathrooms
- bed-linen and towels
- TV
- fully equipped kitchen
- dishwasher
- microwave-oven
- safe-deposit box
- Hair Dryer
- balcony/terrace
- Central vacuum cleaner
- washing machine
- ski deposit with skiboot dryer
- separate for each apartment
- parking
- garden


Typ A
4 people,
(1 bathroom) qm 55

Typ B
4-6 people,
(2 bathrooms) qm 65


Typ C
6 people, 3 bedrooms, 2 bathrooms (qm 90)


The four appartemnets typ A typ B are respectively in the first and second floor. On the ground floor the apartment type C